Lion Air Flight 610 crashed on October 29, 2018. All 189 passengers and crew died.
Ethiopian Airlines Flight 302 crashed on March 10, 2019. All 157 passengers and crew died.

(For some reason the embed for original post isn't working)
Facebook's translation:
March 10, 2019-my lucky day
Running to catch flight et 302 Addis Ababa – Nairobi, which crashed 6 minutes after taking off, I had my nerves because there was no one to help me go fast. I lost it for two minutes, when I arrived, the boarding was closed and I watched the last passengers in tunnel go in – I screamed to put me in but they didn't allow it. In fact, the flight lost it because I didn't give a suitcase (otherwise they would expect me for 10-15 minutes or more, because finding a suitcase loaded wants at least 40 minutes). Also, as I learned later, I lost her because I came out first and very quickly from the plane and the connection ambassador who came to receive me didn't find me

Airport people, kind, promoted me to the next flight that would leave at 11:20, they apologized for the inconvenience and transferred me to a nice lounge for the-waiting.

On 10:50, as we joined the next flight, two security officers informed me that for security reasons that a senior officer will explain to me, they will not allow my boarding. In my intense protests they left no margin of discussion and led me to their superior, to the airport police department.

He told me gently not to protest and say thank you to God, because I am the only passenger who did not enter the flight et 302 which is missing. And that this was why they can't let me go, until I determine who I am, because I didn't get on the flight and everything. At First I thought he was lying, but his style left no margin of doubt.

I felt the ground lost under my feet, but I came back in 1-2 seconds because I thought something else would happen, some communication problem maybe. People were kind, they asked that they had to ask, they my elements and let me wait.

They made me sit in a living room and they told me to wait there until they warn me.

I was looking on the internet to find elements for the flight, friends from Nairobi informed me that 30 minutes after the expected time had not landed and there was no information about her luck and suddenly all the wifi of the airport.

Fortunately there are sms – from close friend I learned that the flight crashed almost just took off and that the issue was going out in the Greek media.

Then I realized that I must immediately contact my own people and tell them that I was not in and that for two small random circumstances I lost the flight – the moment I made that thought i collapsed because then exactly I realized how lucky I stood.

This text I wrote to manage my shock. I'm posting it because I want to tell everyone that the invisible and, nēmatídia of fortune, the out-of-plan circumstances knit the web in which our life is taken. It's millions of small threads we almost never feel – but one to break is enough to feed the whole web instantly.

Really, it's the first time I'm so glad I wrote a post and I'm grateful to live and that I have so many friends that made me feel their love – kisses to all and a warm thank you for your touching support. Special citation reference for early surgery and support to Jeroen Par Dijk Panos Fragiadakis Haris Kamariotakis and a big sorry to my family for the shock you've been looking for.

Maybe not too old to rock n roll – but certainly too young to die…

Sunday 10/3/2019, 13:00 Addis Ababa, Ethiopia

(the post went up from Nairobi to which I finally arrived)
Both planes were Boeing's 737 MAX 8, which flew its first commercial flight between Kuala Lumpur and Singapore on May 22, 2017.
Boeing was optimistic about its new plane even after the Lion Air crash.
Solid year of commercial milestones – delivered the first 787-10, 787th 787 and 256 737 MAX airplanes; healthy sales activity. @BoeingAirplanes pic.twitter.com/nVXC0RTiLE

— The Boeing Company (@Boeing) January 30, 2019
Since Sunday's crash, many countries have responded quickly by grounding all of their 737 Max 8's. Here are snapshots from around the world. In India…
Two brand new Boeing 737 Max 8 airplanes flown by #EthiopianAirlines and #LionAir crashed in 5 months.
Now, China has grounded all 96 of its 737 Max 8s.
In India, #JetAirways and #SpiceJet fly this plane
👉🏿 DGCA must act and reassure that these planes are airworthy or ground them

— Dibang (@dibang) March 11, 2019
DGCA has taken the decision to ground the Boeing 737-MAX planes immediately. These planes will be grounded till appropriate modifications and safety measures are undertaken to ensure their safe operations. (1/2)

— Ministry of Civil Aviation (@MoCA_GoI) March 12, 2019
In China…
China's civil aviation regulator said in an official statement on Monday that it will ban the commercial use of Boeing 737-8 planes by domestic airlines until safety confirmations from the US Federal Aviation Administration and the Boeing company are available. pic.twitter.com/vkOudTZFR3

— People's Daily, China (@PDChina) March 11, 2019
When government has been slow to react, customers and travel agents are taking matters into their own hands.
Seeing that @British_Airways/ #Comair have decided to continue flying the dodgy Boeng 737 Max planes regardless, I have instructed my staff to transfer ALL these bookings to @FlySafair with immediate effect #EthiopianAirlinesCrash

— No to Conspiracy Theories… (@Muzi01) March 11, 2019
And, from the US…
Why no, I'm not at all nervous to get on Flight 460 that's been delayed since 5:30 pm and is a Boeing 737. Why do you ask?

— PeggyLowe (@peggyllowe) March 13, 2019
Seattle law firm sues Boeing for deadly Lion Air crash https://t.co/YH1RAjN2XU pic.twitter.com/d3BUUppNbr

— #Q13FOX (@Q13FOX) March 7, 2019
UPDATED #FAA Statement regarding @Boeing 737 MAX. pic.twitter.com/HxObBr7qRf

— The FAA (@FAANews) March 12, 2019
Here's NYTimes' flight map of existing routes flown by the 737 Max 8.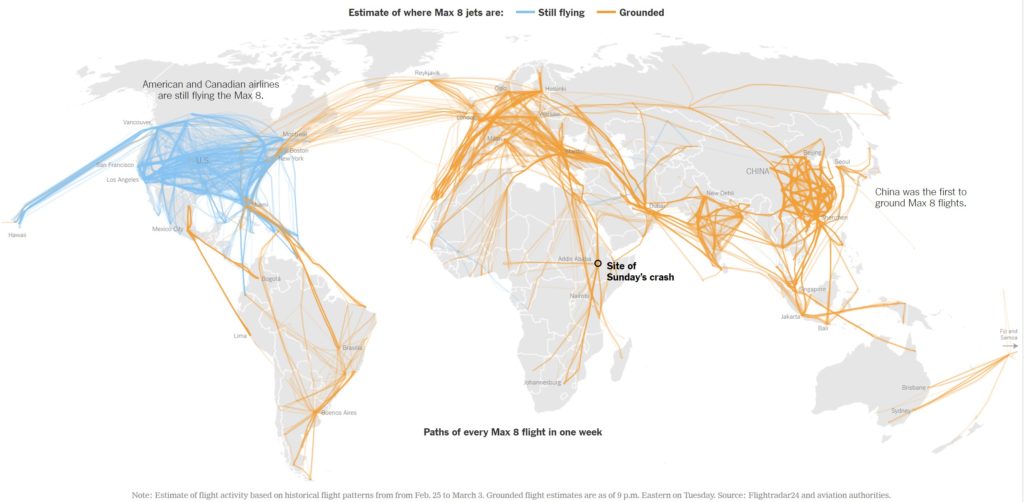 For good measure, let's toss in news about Trump:
NEW: @Boeing CEO Dennis Muilenburg spoke by phone with TRUMP this a.m., urging him not to ground 737 Max 8s after Sunday's crash.
* Muilenburg has tried to cultivate Trump. He visited Mar-a-Lago after AF1 dust-up, & Boeing donated $1M to Trump inaugural.https://t.co/OUXRGBsE5T

— Kenneth P. Vogel (@kenvogel) March 12, 2019