by Drew and Arthur
On March 8, International Women's Day, a group of Russian feminist activists protested outside the Kremlin.
Their banner said, "200 years men in power, out with them!"
Ekaterina Nenasheva's post accompanying the video reads:
"Moscow and St. Petersburg feminists, #CapturedKremlin, congratulate you on March 8
UPD: Tishchenko, Orlova and a photographer from Nova already in the Police Station – China Town
UPD: at 14:20 – released all detainees"
Meanwhile, Putin was congratulating the staff at the new perinatal centre in Bryansk. After all, the history of International Women's day is rooted in Russia.
The President toured the new perinatal centre in Bryansk and congratulated the staff on International Women's Day https://t.co/3I9WaI5Qwg pic.twitter.com/hJFdMyosIy

— President of Russia (@KremlinRussia_E) March 8, 2017
The feminists gathered in a prominent location, Alexander Garden, right at the edge of the Kremlin's walls:
News of the demonstration spread quickly on social media, with over 43k people watching Nenasheva's video.
Some declared the protesters heroines.
My #InternationalWomensDay heroines: The women who scale the Kremlin's wall to call for an unlikely scenario: a Russian woman president. https://t.co/UPdrE40caJ

— Yuliya Komska (@ykomska) March 8, 2017
One person wrote on Facebook in Russian: "You are still bathing in a bath with champagne, and your revolutionary friends have already taken the Kremlin."
Not all coverage of the demonstration was positive, though.
A photo of protesters appearing to have breached the Kremlin walls turned out to be Photoshopped.
The fake photo was quickly denounced, even by the organizers, in a Facebook post that has since been deleted (but was reported on by Buzzfeed).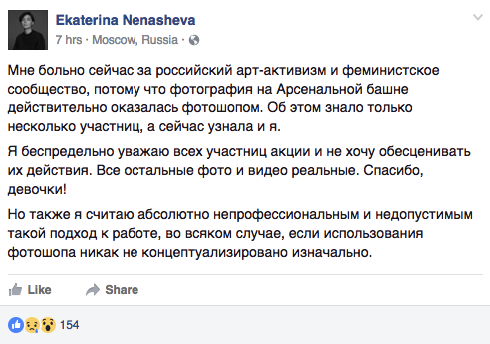 In that deleted post, Ekaterina Nenasheva says:
"I'm hurting right now for Russian art activism and the feminist collective, because the picture of the Arsenal tower really did turn out to be photoshop. Only a few participants knew about it, and now I know too.
I deeply respect all participants of the protest and don't want to devalue their actions. All the other photos and videos are real. Thank you, girls!
But I also consider it absolutely unprofessional and unacceptable to have such an approach to work, in any case, the use of photoshop was not part of the original concept."
Others used it as an opportunity to discuss the much talked about "fake news".
Fighting fire with Fire and fake news with fake news? Feminist photoshop takes on the Kremlin #IWD2017 https://t.co/9D9ajkxryB

— Eilish Hart (@EilishHart) March 9, 2017