Early last Friday, a sunny morning, a truck fatally struck Tess Rothstein on Howard Street in San Francisco on her commute to work. A bystander who witnessed the event explained that as Rothstein rode along the parallel-parked cars along the strip, a door opens unexpectedly. As she dodges the car door, she swerved into the truck's path. Within two hours, a group gathered in memoriam and in advocacy.
Any city cyclist knows the dangers that come along with cycling when they feel the first multi-ton bus fly by and test their balance. But in San Francisco, crashes are prevalent and can be deadly. Howard Street alone, in the blocks without protected bike lanes, has claimed 8 lives.

Source: https://ourbikes.org/

Outraged, San Francisco cyclists have formed advocacy groups. One of the most successful, People Protected, just two months before this crash celebrated a major win illustrated in newly opened protected bike lanes on Valencia and Howard Street. With the victory of that project, bike lanes started on 6th street. Rothstein was struck only two blocks before, on 4th.
Within two hours, People Protected gathered at the spot of Rothstein's death in memoriam of her life and in protest to be sure she did not "die in vain."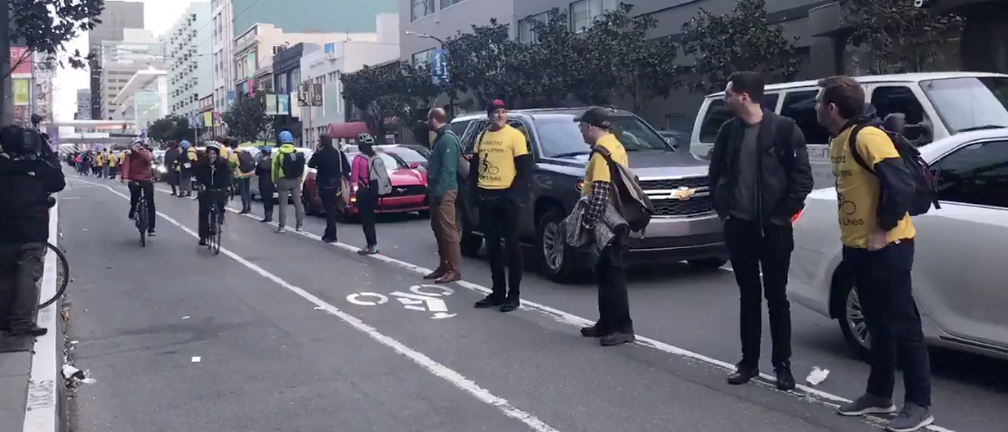 Protestors lined up a few feet from the parallel parked cars. With cars whizzing by, these advocates acted as human barriers between cyclists and the vehicles of the busy street. The group gathered 3 times throughout the day, with the support of local media and politicians.

Other advocacy groups such as Our Bikes further guided the way for cyclists and concerned political participants throughout San Francisco to act in dissent against anti-bike policies. An instagram post highlights a call to action.


The group offers further instruction on their website, offering a template for individually crafted, personal emails to the Mayor and members of the MTA Board. So far, over 1,000 emails have been sent from their page. A few sample emails offered by the site are here:

"To Mayor Breed and the San Francisco MTA Board,

Last year New York City installed more than 25 miles of protected bike lanes. This year they're planning to install more than 30 miles. How many miles are you going to install this year?

Had you completed the protected bike lane on Howard to Embarcadero—or at a minimum, 4th Street—Tess Rothstein would be alive today. We need to be proactive in the installation of protected bike lane infrastructure to reach our Vision Zero target of zero fatalities by 2024.

Finish the protected bike lane on Howard by the end of March.

Thanks,"
"Dear Mayor Breed, Board of Supervisors and SFMTA,

Tess Rothstein was killed this week after a driver opened their door into her path, forcing her under a truck which ran her over.

A protected bike lane on Howard would have saved her life.

We need the SFMTA to be proactive and install protected bike lanes on every stretch of the high injury network by the end of this year.

Other cities have taken swift action and expanding their protected bike lane networks rapidly. Why does the SFMTA under Ed Reiskin's leadership only install protected bike lanes after someone is killed? That is not leadership.

Extend the protected bike lane on Howard to 3th Street within the next 21 days and to the Embarcadero by the end of 2019. These deaths cannot continue in our city.

Thank you."

Outraged bikers from many groups cycled in and out of the protest, including Janice Li of the San Francisco Bike Coalition who stated, "If we keep designing streets for fast moving cars and don't acknowledge that there is so many people walking and biking on our streets today, people will die."

However, issue driven groups were not the only supportive attendees. The San Francisco Municipal Transportation Agency's spokesperson, Paul Rose, attended as well: "SFMTA's confirmed Howard is one of the most dangerous streets for cyclists in San Francisco and are looking into making changes."

He attempts to explain a bit how: "The mayor issued a directive on Wednesday that the MTA should move quickly with projects to increase safety around the city on our high injury network. So we are certainly doing that. This will be on of the areas we are exploring options to get those improvements in by this year."

The Board of Supervisors representative from the district of the crash, Matt Haney, paid respects and expressed grief and a great sense of urgency: "This is the second fatal crash that we've seen on our streets this week… And, so this is one of the most urgent crises that we face in our city."

Finally, San Francisco Mayor, London Breed, also visited the site. She reiterated that the city plans to improve safety, "but while we wait for these capital improvements, we need to make short-term safety enhancements, which I have instructed the SFMTA to do without delay."

The city sees this is a problem, and each group has expressed commitment to action. Citizens were in peaceful protest, politicians promised to make political changes, and in the spirit of SF and Silicon Valley, techie cyclists advertised their cyclist apps.

Applications like Blocked show where bike lanes are currently blocked by construction in the city. Some visualizations show the most dangerous and at-risk crash sites of the city. Others like Bikesy simply route a rider on a bike-safe route to their destination in an attempt to promote ease and safety of bike travel. And throughout most of these advocacy group sites, there are seemingly endless tools, workshops, maps, among other resources and projects to help the average cyclist.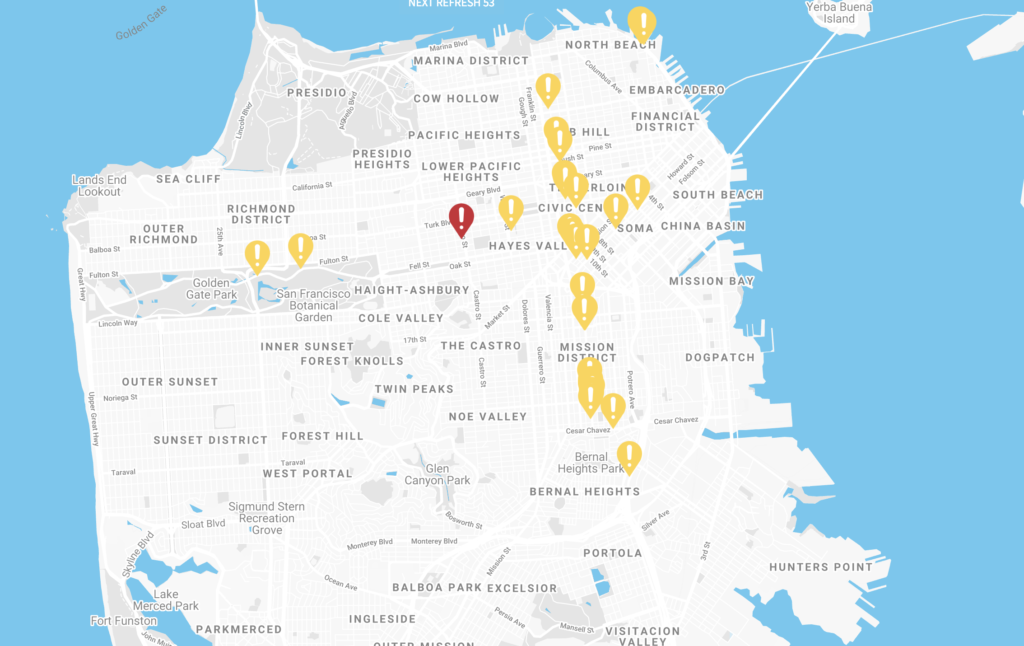 Although this issue affects SF particularly hard, many cities are grappling with the same issues. Coalitions of safe-biking advocates have formed throughout the US, including D.C., New Orleans, Cambridge, Hawaii, and Philadelphia, as well as National Lobby Groups with local chapters.

Personally, the initial fear instilled in me by the first bus that passed too closely has been enough to end my bike-to-work days. But so many of my friends have been "tapped" by cars, and a few seriously hit. One told of a time just outside our space at the Media Lab where he was hit at the intersection. He fell off his bike, his wheel was completely bent, the driver of the car was flustered, fearful, and angry, and all he could think about was that he could have died.

Stories like my friends are frightening, and stories like Tess's are tragedies. However, I feel hopeful and inspired by the response of those in San Francisco, and hope the outcry of protests and groups like these ensure that safety measures are put in this city and many others across the US and beyond to protect people like Tess.