Searching twitter for only those tweets made in a particular time, in a particular location, is clearly a valuable tool. Twitter is a dazzling fountain of sources, and being able to tie those to a place and time provides context and reduces noise; it's more likely that a journalist will be able to use the tweets they see in building a story
Geosearch has been around for a while; Echosec, present in a 2016 list of tools for journalists, is branded as a private security / "Open Source INTelligence" platform. With blog posts like "Social Media for Executive Protection" from 2015 and "How Executive Protection Services are Changing" from 2018, they've clearly found their niche, and since the time list of tools was written have stopped offering their tools to non-customers.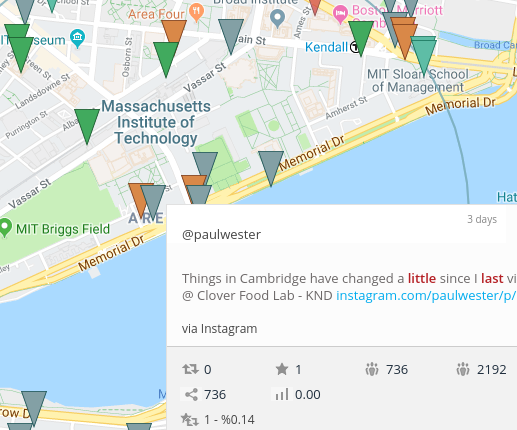 Socialbearing, on the other hand, focuses on marketing feedback; "insights and analytics", "sentiment analysis", and "View top influencers" are their key features. Google Analytics is a clear visual influence (see image). Their product, thankfully, is still available, and even makes some noise about randomizing location markers to protect privacy.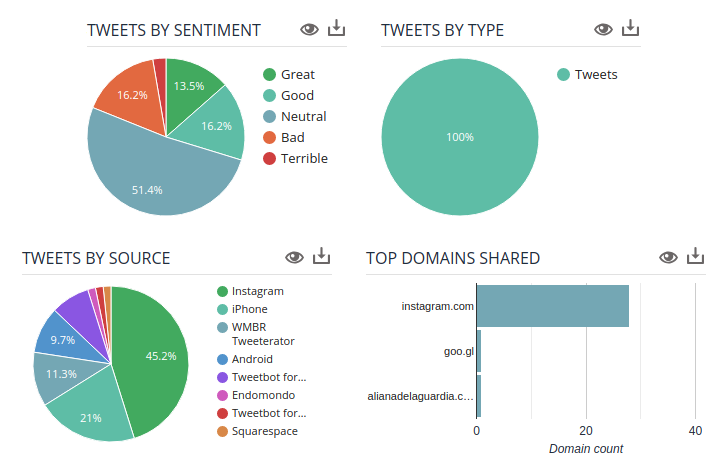 Journalists can obviously benefit from such tools in myriad ways, most obviously when covering chaotic live events such as a protest, riot, natural disaster, police scene, etc.. Historical searches provide a way to compare locations at a particular time, or track a location over time, providing the oppourtunity for spatially-rich narratives of an event.
But what are the implications of these tools? The breadth of interest in them, combined with the impression that they're somehow more "real" than twitter (anything on a map is easy to imagine as having already truly happened), makes them an interesting vector for malinformation. Building a fake twitter account that could plausibly be in a particular location takes a different kind of work than your standard fake account, but it probably doesn't need as many followers/follows to be noticed, and so may be more resilient to discovery attempts. Journalists using these tools may wish to practice a kind of "shadow analysis" to verify whether the incidental information of these tweets and accounts is sufficient to verify a highly spoofable GPS entry.
What I find most intriguing, however, is the perspective these tools offer to the user. By helicoptering the journalist over mapped landscapes and letting them look down to spot individual tweets, they make the user feel powerful, godlike. The world seems understandable, and certainly the streets are understandable in a way they wouldn't be from the ground during a protest, riot, or natural disaster. While the journalist is already in a position of being at their computer and not on the ground, I feel like geosearches heighten that feeling of distance even more than looking at a stream of text does, and that concerns me. This flyover perspective seems like something that could easily creep into the tone of how something is covered, giving it a strong spin even in the absence of malinformation.
EDIT: this only occurred to me just now in class, but while I saw several posts on "drone journalism" which meant by it using drones for photography, this kind of investigation by signature strike truly seems like journalism coming from the tradition of the drone, with many of the same strengths, the same weaknesses, the same fraught tradeoffs.